TACWebMail
How to access your email from any web browser
To access your email with a web browser, replace the "www" in your domain web address with "mail".
Go to http://mail.yourdomainname.com
The mail part of the address is a subdomain of your domain setup to access your email.
When you go to that address you should get our SurgeWeb Login window.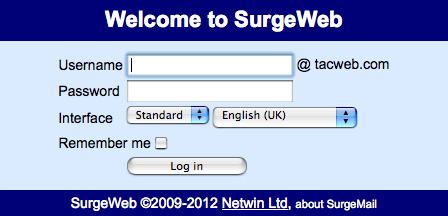 From here you just enter your email address and password and you are logged into the TACWebMail portal.
The TACWebMail portal works very similar to other popular online email sites, like Gmail or Yahoo (but with no advertising).
Accessing Mirror Mail Server
If for some reason the master mail server went down, you can still access and continue to receive and send your email with our mirror mail server. Just go to "mail2"
Go to http://mail2.yourdomainname.com
Note: if accessing the mirror server while the master server is still working, the login window may show a different domain name, so you may have to enter your email full address and it may look something like you@yourdomain.com@tacweb.com.
Your Email Account Controls
The TACWebMail portal is also where you can do things like change your password, set up "out of office" messages and other handy features. Just click on the "Options" link at the top right corner of the main TACWebMail page.