Is Your Website Producing The Results You Want?
The way to get your website included in search engine results is different than it was in the past. In fact, it can be so difficult to get your website to come up in the searches you desire, that the term SEO (search engine optimization) has become a separate field and an art form in itself.
Fortunately if your website was developed by TAC, your site is already technically optimized for search engines to properly read your content and for optimal speed and easy-to-use navigation. But to fully take advantage of your website on the Internet, TAC can expand your optimization and incorporate features that can take your website results to the next level and beyond.
Learn more about Search Engine Optimization >>

Once your website is optimized, the best way to get quality traffic and action going is to advertise on search engines like Google, Yahoo and Bing, and social media like Facebook or YouTube. Generally, the advertising on search engines and social media use a system called PPC (Pay Per Click) advertising.
Learn more about Internet PPC Advertising >>
TAC can help make your website the most result oriented and cost effective marketing tool your company has ever seen. Contact TAC today to find out how your company can benefit from TAC's experience and get more out of your advertising dollar.
---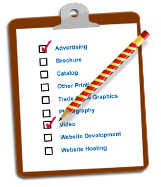 Get pricing and info on the website SEO your company needs.