Commercial Photography
With decades of photography experience, an industrial size studio, and professional digital photography equipment and lighting, TAC offers one complete photographic solution for retail, commercial and industrial applications.
Please click on the links below to learn more about our Photography:
We put your product in the spotlight!
TAC also has decades of experience in producing quality video productions. See the Video Production page for more info.
Contact TAC today to find out how your company can benefit from TAC's experience with photography and video production.
---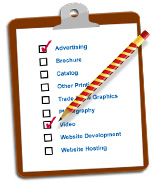 Get pricing and info on the photography your company needs.