Direct Mail Pieces
You have just a few seconds to grab their attention before your direct mail piece goes in the trash. Direct mail results are directly related to their design. Put decades of marketing, design and printing experience to work for your company for your next mailer. TAC can design an attention getting direct mailer for your company, and can also handle every aspect including printing, mailing services and direct imprinting if needed.
Below are a few examples of direct mail pieces produced by TAC, including design, layout, graphics, photography, printing and bindery (fold, stitch, trim, die-cutting, etc.).

Download PDF flyer: Creative Direct Mail Piece Flyer PDF, 600 k
Postcard Mailer
This direct mail piece for CellBand™ was used to introduce the product to potential distributors and retailers. Development included on-location and in-studio photography, design, printing full color ink, on white 100 lb. gloss cover stock. TAC also designed and produced the CellBand package header card shown on mail piece.
Size: Jumbo Postcard 11-1/8″ x 6″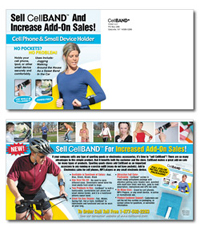 Click for larger image.
Multi-page Folded Mailer
TAC can also coordinated and produce regularly published mailing programs for your company or organization. This sample shows a seasonally produced marketing flyer distributed to Toyota dealers for the Toyota Dealership Supply Program. Development included product photography and working with manufacturer supplied photos, design, printing full color ink, on white 70 lb. gloss text stock, stitch binding, folding and wafer seal.
Size: 16-24 pages 8-1/2″ x 11″ folded to 8-1/2″ x 5-1/2″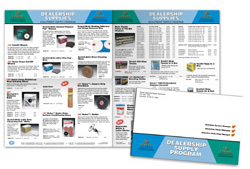 Click for larger image.
Custom Die-Cut Folding Mailer
This creative mail piece for TB&A Hospital Television, Inc., is a "pop-up" folding card. Development included design, printing in full color ink, plus aqueous coating, on white 100 lb. gloss cover stock, die-cutting, folding, assembly and wafer seal.
Size: 11-1/8″ x 12-1/4″ folded to 11-1/8″ x 6-1/8″
Also see TB&A's catalog and website www.hospitaltv.com also designed by TAC.
Contact TAC today to find out how your company can benefit from TAC's website development experience.
---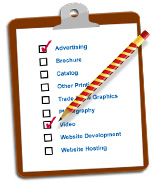 Get pricing and info on the direct mail piece your company needs.