Internet Pay Per Click (PPC) Advertising
With Pay Per Click advertising, your advertisement is seen when people search for key words you determine, and you only pay when someone clicks on your ad and goes to your website.
It sounds simple but because you bid against other advertisers for the same advertising and positioning, and how much you pay depends on many technical factors, the advertising requires constant attention and management.
The difference between how your ad performs verses how your competitors' ads perform can depend on the experience and creativity of the person or company running your pay per click campaign.
TAC has a unique position in it's ability to provide result oriented campaigns because it can draw on it's many decades of experience in traditional advertising mediums, a long history and experience with Internet technology, and ad savvy creativity to resolve issues that online advertisers are faced with in PPC marketing.
PPC advertising has many advantages over traditional media, including:
Any size budget

Geographic targeting

Target key words and/or phrases

Any length campaign

Many networks available, Google, Yahoo, Bing, social media and more.
TAC pay per click advertising service includes:
Setup of pay per click account(s).
Identification and research on desired key words.
Formulation of ads and ad options to generate good ad frequency and quality score.
Constant monitoring and adjusting of key words, ads, bid rates and options to maintain and improve on quality score and results.
Continual reporting and analysis of traffic and PPC statistics.
Download our PPC flyer:

PDF, 288 k
---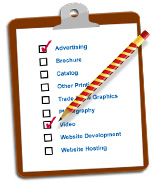 Get pricing and info on the website SEO your company needs.