Studio Set Photography
Often in advertising when you see a photo of someone in a particular environment, they may actually be on a set in a photo studio. If your product requires a setting or if securing an actual location is prohibitive, TAC can build the set required to simulate the desired scene. Set design and development can be as simple as a custom background or can include building a facade of walls, windows, or complete rooms.
We can build the set you need
This healthcare photography example shows the set we built for a hospital room scene, and the resulting photo. If you saw this photo in the magazine it was published, you would have thought it was shot in a hospital room, but now you know, it was shot right here in our studio!
TAC is also proud to have been one studio selected when shooting the movie "Jump Tomorrow", produced by IFC Films and released in 2001.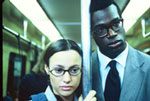 Jump Tomorrow (2001)
Starring: Tunde Adebimpe, Hippolyte Girardo, Natalia Verbeke
Director: Joel Hopkins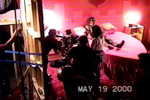 Click photo for larger image.
The production company rented our studio for an entire month where two complete room sets were built and filmed with 35 mm film cameras and equipment.
We highly recommend this movie! Not only because it was filmed partly at our studios, but because it is a hilarious romantic comedy that everyone can enjoy.
Much of the movie was filmed in and around the Niagara Falls and Western New York area. The scenes in the hotel rooms were filmed in TAC studios.
TAC also has decades of experience in-studio sets for video productions. See the Video Production page for more info.

Download our PDF flyer: Studio Set Photography PDF, 760 k
Contact us today to find out how your company can benefit from TAC's experience with photography and video production.