We setup the world's best email system and provide it free to our clients with any hosting service

TAC uses SurgeMail email servers for reliable hosting of all our clients' email accounts.
Each Master mail server is mirrored in real-time by an exact duplicate Slave server. If one server goes down for any reason, the mirror server continues the mail service uninterrupted.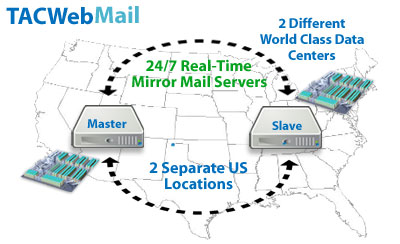 Our Master and Slave dedicated mail servers are hosted at two separate world-class data centers, in two different US locations, providing near disaster-proof redundancy.
Contact TAC today to find out how your company can benefit from TAC's email hosting setup.